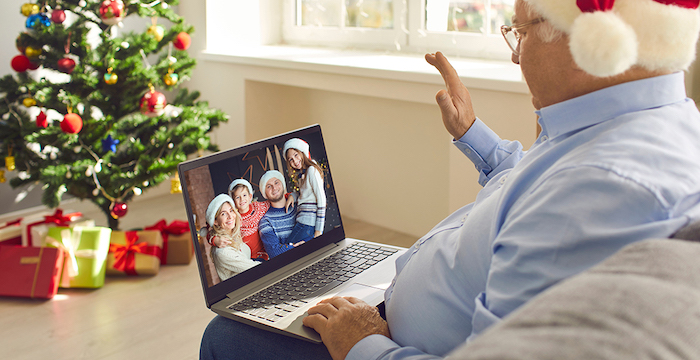 The holiday 2020 season may look different but that doesn't mean you can't still celebrate, including with your loved ones. This is the year for shopping online — which has already seen a huge increase and continues to be the safest way to buy things for yourself and others. Though the U.S. in particular is experiencing a new COVID-19 surge this holiday season, there are ways to create new and safe holiday traditions for 2020.
Ahead, we'll share tips for how you and your loved ones can still find joy in the holidays during COVID, whether it's setting up Zoom dance parties or mailing gifts to out-of-state friends. We also understand the incredible amount of stress you might be under, so we have some resources for that as well. While this time may be hard and one you won't soon forget, the most important thing to remember is staying safe. These tips can provide some guidelines for safety, but in the end, you'll need to come up with what will work best for you and your family.
Getting Prepared for The Holidays
Whether you're planning to celebrate with friends or family, it's important to start planning for the holidays sooner rather than later, especially because this holiday season will undoubtedly be different. In a time of year that's always stressful anyway, starting your planning early can help cut down on that stress. Thanks to the COVID-19 pandemic, Christmas with family this year might require a lot of extra preparation. For instance, if you want to celebrate with your family but are insisting, they take a COVID test before coming into your home, you might want to give them a head-up now rather than on December 23.
Holiday Season Shopping
Shopping has shifted more online during the pandemic, especially because crowded stores are a thing of the past – even on Black Friday 2020. Here's what you can do to prepare for holiday season shopping:
Plan ahead

: Planning in general is the first and best thing you should and can do with COVID-19 in mind. If you can order online and do curbside pickup, that's a solid plan. If you can order online and have it delivered, that's even better. This way you're ahead of the game and the super spreader holiday crowds.

Practice social distancing in stores

: This goes without saying, but if you find yourself in a store, keep social distancing in mind. Maybe shop early in the morning or right before a store closes, as those times are generally less busy. Keep a distance of six feet from everyone else in the store and be safe.

Ask for a wish list

: By asking your friends and family for a holiday wish list, you can save yourself time and stress. You won't have to spend time exposed, wandering store aisles looking for the perfect gift, and you can watch for targeted online sales.

Do it all at once

: Try to consolidate your shopping list to one day or even one store. This way you're minimizing your exposure to other people and can knock-out all the shopping at once!
Travel Considerations
While you may be used to tedious Christmas or holiday travel, this year obviously requires extra caution. The most important thing to do is to follow the CDC travel guidelines for social distancing while traveling and always wear a face mask. The CDC has cautioned against traveling at all, so if you absolutely must travel, here are some tips for doing it safely:
Consider modes of transportation

: Some travel may be safer than others. If you have your own car, that's your best bet. Public transportation can be dicey with the number of people utilizing it. Between HEPA filters and mask mandates,

airplanes are safer

than you might think, but you still have two or more airports along your route that are fully enclosed and full of people who may not be wearing masks properly. Bear in mind that more and more airlines are now

packed to capacity

for their flights, meaning you can't count on that empty seat between you and another passenger.

Check travel restrictions

: If you're traveling out of state or even out of the country, make sure you're fully aware of the travel restrictions. Each

state has a plan in place

so check to see if you'll need to quarantine or get a COVID test. Build that timing into your travel plan.

Consider the time

: If you aren't tied to a certain travel time, consider traveling during off-peak times. Flying in the middle of the week might allow you to be around fewer people. If you're on public transportation, traveling during typical rush hour isn't advised. Weekend travel is always busier. Factor in the timing and consider changing plans.

Cancel if need be

: While the holidays may feel significant, the safety of you and your loved ones matters more. Don't put yourself and others in danger if you don't feel comfortable. Instead, think of ways to spend the holidays more safely and make a plan to see everyone once the pandemic isn't in full swing.

Be prepared for a change

: You never know what might happen with COVID-19 or travel right now, so it's important to be flexible. That also goes for yourself. If you're feeling sick, don't travel. If you do travel and end up exposed to someone who is sick, be prepared to get tested, and possibly quarantine.
Precision Pain Care and Rehabilitation has two convenient locations in Richmond Hill – Queens and New Hyde Park – Long Island. Call the Richmond Hill office at (718) 215-1888, or (516) 419-4480 for the Long Island office, to arrange an appointment with our Interventional Pain Management Specialist, Dr. Jeffrey Chacko.