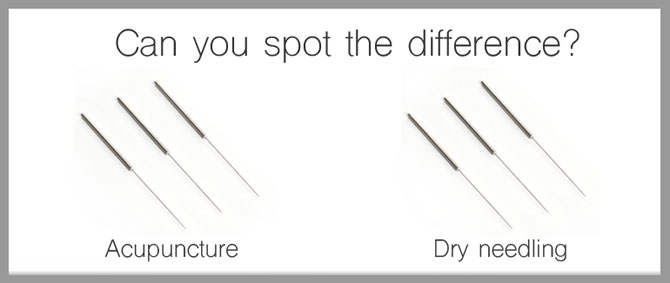 If you only compared dry needling and acupuncture with a photo, you might be stumped to identify each. Both acupuncture and dry needling use thin, stainless steel needles. For both practices, needles are inserted into the skin and both also claim to treat pain.
That's where the similarities end. Unique qualities help differentiate the two. One practice has been used for thousands of years as an alternative treatment and has some solid research of effectiveness. The other's been adopted in the last couple of decades.
One is designed to relieve pain, discomfort, or issues by opening up a person's energy flow or chi. The other is designed to stimulate trigger points or muscles that are irritable.
Knowing the differences can help you decide which type of treatment is right for you.
Dry needling is a modern treatment designed to ease muscular pain. Its popularity is growing.
During dry needling, a practitioner inserts several filiform needles into your skin. Filiform needles are fine, short, stainless steel needles that don't inject fluid into the body. That's why the term "dry" is used.
Practitioners place the needles in "trigger points" in your muscle or tissue. Dry needling is also sometimes called intramuscular stimulation. The points are areas of knotted or hard muscle.
Dry needling practitioners say the needle helps release the knot and relieve any muscle pain or spasms. The needles will remain in your skin for a short period of time. The length of time depends on the practitioner. Some healthcare professionals, such as physical therapists and massage therapists, receive some training in dry needling.
Acupuncture is a form of medical treatment that's been used for hundreds — even thousands — of years. Acupuncture originated in Asian medical practices. That's why many licensure and oversight boards use the term "Oriental Medicine" to classify acupuncture.
Acupuncture is practiced by tens of thousands of licensed acupuncturists. Expert acupuncturists train for three to four years. The training includes both instructions in the use of needles and instruction in diagnosing conditions. Practitioners have direct supervision from another senior or expert practitioner.
In addition to this training, acupuncturists must undergo testing from a national board of examiners and continue to take instructional courses each year to maintain their license.
The American Medical Association accepts acupuncture as a medical treatment, and some insurance companies may cover the cost of treatment.
Both acupuncture and dry needling are used to treat osteoarthritis. In particular, research shows acupuncture and dry needling are particularly useful for the treatment of knee pain caused by the arthritis condition.
For the treatment of knee and hip osteoarthritis, non-trigger point dry needling is more effective than traditional dry needling alone. A 2014 review found that dry needling in muscles and tissues around the pain point reduces pain and sensitivity more than needling just in the pain point.
This dry needling strategy is more similar to acupuncture in that it treats a larger area of muscles and nerves. Trigger point dry needling focuses entirely on the point of pain.
Please contact our office at (516) 419-4480 or (718) 215-1888 to arrange an appointment with our Medical Acupuncture Specialist, Dr. Jeffrey Chacko.