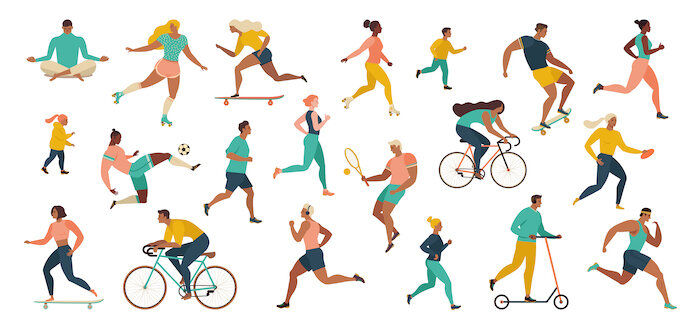 Exercise therapy is a form of physical therapy designed to achieve specific therapeutic goals, depending on the patient. This treatment aims to work toward the reduction of pain, as well as restoration and recovery of musculoskeletal function. If you suffer from chronic pain due to an injury or illness, exercise therapy can help you eliminate pain while simultaneously reestablishing your natural flexibility. Let's examine exercise therapy further to determine what it is, how it works, and what are the benefits of engaging in this activity.
What Is Exercise Therapy?
Exercise therapy utilizes intensive and repetitive activities for rehabilitation. It is also known as restorative therapy, activity-based recovery therapy, and activity-based therapy in the medical communities. This form of therapy has been an essential part of rehabilitative treatments for decades, and it is a common practice around the world.
The inventors of exercise therapy constructed it according to the principles of exercise science, which makes it incredibly effective for people of all ages. The adaptation of scientific exercise principles to the needs of a patient allows for the creation of a highly customized exercise therapy plan that accelerates individual recovery toward normal function. The benefits of exercise therapy for seniors include increased independence, improved mobility and cognition, reduction of medications, and enhanced overall well-being. Similarly, exercise therapy for athletes can produce incredible results, such as achieving maximum performance and quickly recovering after sports-related injuries.
A well-trained exercise therapist can help you restore your strength, flexibility, and motion after suffering from an injury or undergoing major surgery. Exercise therapy employs specific stretches, exercises, and techniques to address your chronic back pain or other ailments.
Exercise Therapy & Rehabilitation
If you are struggling to walk, move, or get out of bed without assistance, then exercise therapy could be an effective solution for you. Maybe an injury, illness, or surgical procedure left you with a decreased range of motion or mobility. Working with an exercise therapist can target problem areas in your body's functionality so you can finally start living without pain.
Exercise therapists are knowledgeable about treatment and surgery goals so that they can customize your routine to your specific situation. For example, if you are undergoing treatment for cancer or arthritis, an exercise therapist can help you maximize the effectiveness of treatments, thus leading to faster healing.
Stretching movements form a big part of exercise therapy. Regular stretching motions increase the flexibility of your muscles and joints. If you have tight muscles or stiff joints, even something as normal as reaching overhead can cause severe pain. With proper stretching, your body can recover its elasticity, and you can resume your daily activities.
Restore Your Strength With Exercise Therapy
The goal of exercise therapy is to help you improve the function of your muscles and joints by increasing your endurance and strength. If you are an aging adult, exercise therapy can also postpone the signs of waning health, including loss of balance, coordination, cognition, and range of motion.
Whether you have a damaged or injured knee, shoulder, back, or neck, exercise therapy can help you heal faster and diminish your pain. Consult with a skilled exercise therapist first before trying to do any workouts alone, or you'll risk further injury.
Begin Exercise Therapy Today
Are you experiencing a lack of flexibility and chronic pain due to poor musculoskeletal function? If so, you need a knowledgeable exercise therapist to assess your condition and determine your best route to rehabilitation. We build the ideal physical therapy regimen that focuses on your needs to facilitate the best possible outcome.
Precision Pain Care and Rehabilitation has two convenient locations in Richmond Hill – Queens and New Hyde Park – Long Island. Call the Queens office at (718) 215-1888, or (516) 419-4480 for the Long Island office, to arrange an appointment with our Interventional Pain Management Specialist, Dr. Jeffrey Chacko.