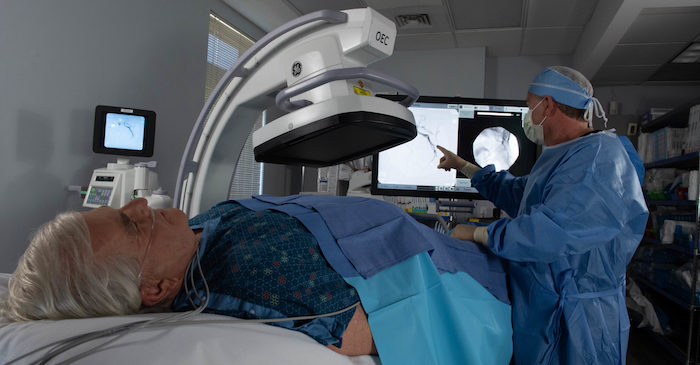 Chronic low back pain, osteoarthritic knee pain, and BPH-related pain may improve with interventional radiology approaches. Highlights from the 2023 Society of Interventional Radiology Annual Scientific Meeting.
Whether in primary care or specialty pain management, physicians hear pain-related complaints every day, multiple times a day.
low back pain affects nearly 40% of US adults

osteoarthritis-related knee pain affects about 25% or 1 in 4 adults

benign prostatic hypertrophy (BPH) affects 50% of men ages 51 to 60 and 90% of those aged 80 and older. Urinary symptoms can cause discomfort and pain if not treated.
While all three conditions have established treatments that provide varying results, interventional radiologists are now recommending approaches that may be able to produce better outcomes, including less pain and briefer recovery periods. Interventional radiology approaches may also serve as a bridge before more invasive treatments are needed.
That was the message from experts speaking at the 2023 Society of Interventional Radiology Annual Scientific Meeting, taking place in Phoenix this March. They gave a conference preview in late February.
Interventional Radiology for Pain Management is Growing
Interventional radiologists are board-certified physicians who use imaging guidance, including X-ray, CT, and ultrasound, to perform minimally invasive procedures. The goal is to deliver targeted treatments with a quicker recovery than other approaches.
Some general practitioners, internists, and pain specialists may not be aware of this specialty, or the advantage of collaboration or referral, said Douglas Beall, MD, chief of radiology services at Clinical Radiology of Oklahoma, Edmond, who presented research on a minimally invasive treatment that injects allograft disc tissue into the spine for chronic back pain relief.
In a report published in 2020 in the American Journal of Roentgenology, researchers talked about the role of interventional radiology (IR) in pain management, including how reducing pain via various IR approaches could potentially prevent people with chronic pain from becoming dependent on opioid use.
Here, are additional highlights of what IR can do for chronic pain, based on the annual meeting preview talks.
Disc Pain: Viable Allograft Supplementation
Viable disc allograft supplementation involves injecting specialized cells and fluid into a patient's damaged disc. The cells from the fluid trigger those in the damaged disc to regenerate with healthy tissue.
The approach can help when conservative care does not provide the desired long-term outcome.
Knee Pain: Genicular Nerve Radiofrequency Ablation
Adults aged 50 and older can obtain significant pain relief with genicular nerve radiofrequency ablation.
Image guidance helps physicians to place probe needles next to the nerves of the knee that can send pain signals to the brain. The probes generate radio waves, with the creation of a ball of heat to dull or destroy these pain nerve endings. Muscles and balance are not affected.
Older adults (50 years and up), compared to those under age 50, had the greatest reduction in pain and increase in function.
No differences in benefits were found among different genders, patients with different BMIs, or those with a history of knee surgery or fibromyalgia. The average follow-up was 75.5 days.
BPH: Prostate Artery Embolization
An interventional radiology technique can also provide long-term effectiveness for urinary symptoms such as urgency, frequency, and straining to urinate, which can cause discomfort and pain if not treated. These symptoms all commonly occur with an enlarged prostate or BPH.
Precision Pain Care and Rehabilitation has two convenient locations in Richmond Hill – Queens and New Hyde Park – Long Island. Call the Queens office at (718) 215-1888, or (516) 419-4480 for the Long Island office, to arrange an appointment with our Interventional Pain Management Specialist, Dr. Jeffrey Chacko.