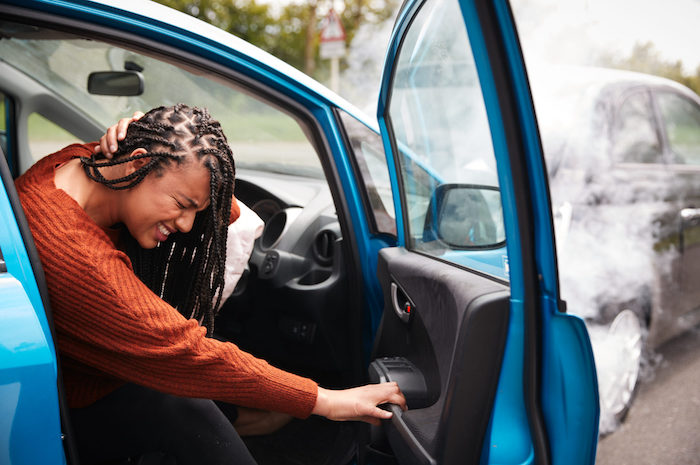 Americans spend more than a million days each year hospitalized after auto injuries, and more than 2.5 million people visit emergency rooms annually for treatment. If you're still experiencing lingering, painful symptoms following a car crash, the expert medical team offers the most advanced treatments in pain management. The team of board-certified doctors specializes in interventional pain procedures so you can get long-term relief, increase mobility, and return to your active lifestyle.
What are the Most Common Auto Injuries?
If you've been driving for any amount of time, chances are you've been in some kind of car accident, even if it was just a fender bender. But if you've been involved in a more serious wreck, you may still suffer occasional or chronic pain from the injuries you've sustained. In some cases, the pain from a car accident can follow you for many years and have an impact on your quality of life.
Some of the most common auto accident injuries include:
Whiplash (neck injuries)

Back injuries

Broken bones

Muscle and joint injuries

Damaged knees

Internal injuries

Head injuries
Many times, long after you've had your car repaired your body still suffers from the long-term, painful effects of your injury. In fact, research shows that spinal severe injuries and accompanying problems are pretty common in a car crash. If left untreated, these injuries can have a significant impact on your daily life and emotional well-being.
How are Auto Injuries Treated?
The treatment you receive for an auto injury depends mainly on the type of trauma you experience. Anytime you hurt your neck, head, or spine, it can be extremely painful and take time to heal.
Auto accidents are by far the leading cause of spinal cord injuries. If you were in an accident and you have chronic back pain, come see the doctors to evaluate your spine and any other injuries you have. Once they diagnose the underlying causes of your pain, they create a customized, comprehensive treatment plan to help you get relief from pain, as well as to help correct any damage that was done to your spinal cord, head, neck, or any other related issues.
The team specializes in interventional pain procedures and therapeutic techniques to help restore your mobility and increase your comfort.
What are Interventional Pain Procedures?
Interventional pain procedures and pain management involve therapeutic techniques as well as pain medication. To help manage your pain, your doctor may prescribe any of the following:
Spinal cord stimulation

Peripheral nerve blocks

Epidural injections

Facet injections

Nerve blocks

Radiofrequency ablation
Anesthetic medicine injected around injured joints, nerves, or tendons can offer significant pain relief so you can function normally again.
If you were involved in an accident and still experience the painful side effects of an auto injury, call or schedule a consultation.
Precision Pain Care and Rehabilitation has two convenient locations in Richmond Hill – Queens, and New Hyde Park – Long Island. Call the Queens office at (718) 215-1888 or (516) 419-4480 for the Long Island office to arrange an appointment with our Interventional Pain Management Specialist, Dr. Jeffrey Chacko.