Stem Cell Treatment for Knee Pain Means an Active Retirement!
| Stem Cell, PRP, Acupuncture in Queens & Long Island, New York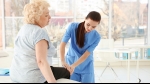 If you're in your late 50s or early 60s and spent most of your adult life working 40-60 hour work weeks, chances are you're very much looking forward to retirement in a few years. Finally, you'll be able to do what you want, when you want! For most of us, that means kick-starting an active lifestyle that gets us in the shape we need to be in to stay healthy through our advanced years. Whether that lifestyle means long walks on the beach, bike rides on the local trail or a couple of rounds of golf per week, we need our body parts to cooperate with our plans for a full retirement.
Love this Post? Spread the World