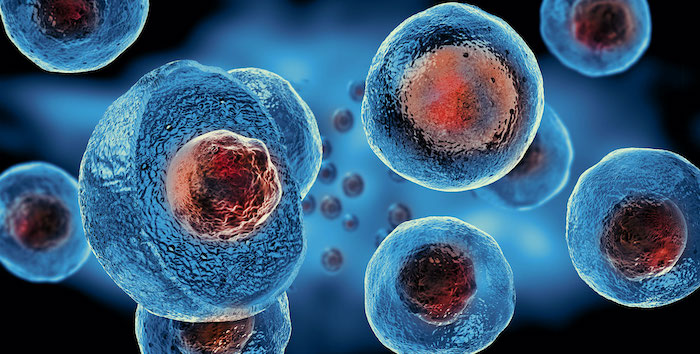 Recently, stem cell transplantation has been frequently applied to the treatment of pain as an alternative or promising approach for the treatment of severe osteoarthritis, neuropathic pain, and intractable musculoskeletal pain which does not respond to conventional medicine. Stem cell-based therapies have been realized to be a potential treatment option for articular cartilage repair in patients with knee osteoarthritis, neuropathic pain, and intervertebral disc disease.
1) Osteoarthritis
Degeneration and inflammation of the cartilage that covers the joint surface is the main cause of pain in osteoarthritis. The cartilage of the articular surface reduces the friction of the joint motion and acts as a cushion against weight loading. While chondrocytes occupy only 1% to 5% of cartilage volume, they produce collagen, proteoglycans, and hyaluronan, which are components of the extracellular matrix, and maintain cartilage structure and physical properties. However, as the cartilage has no blood vessels and nerves, cartilage regeneration is difficult once the cartilage has been damaged or undergone degenerative changes.
Some that limit the regeneration of, and recovery from, damaged cartilage. Chondrocytes within the cartilage can migrate very slowly to the adjacent lesion. Even if bone marrow-derived stem cells can help cartilage regenerate, it is only possible when the bone marrow is exposed, or, in other words, when the entire layer of cartilage and chondral bone is damaged. The evidence for the contribution of stem cells, which have migrated from the synovial membrane or fluid, for cartilage regeneration, is not definitive.
For one of the attempts to overcome the limitation of the natural regeneration of cartilage in osteoarthritis, autologous chondrocyte transplantation has been reported in 1994. The implantation of MSCs has also been reported. Repaired tissues treated with MSCs appeared to have better cell arrangement, subchondral bone remodeling, and integration with surrounding cartilage than did repaired tissues generated by chondrocyte implantation. Various sources of MSCs, which can differentiate into chondrocytes and regenerate cartilage, have been reported. While adipose tissues, the synovial membrane, and the umbilical cord would be one of the sources, bone marrow-derived MSCs have been known as the standard sources of adult stem cells for the treatment of knee osteoarthritis. They are generally harvested from the iliac crest and easily differentiate into cartilage tissues under specific conditions.
The therapeutic modalities applied for osteoarthritis include surgical intervention or arthroscopy, tissue engineering, and intra-articular injection of cultured stem cells. These modalities would be applied individually or in combination. Microfractures are made artificially under arthroscopy by awls which are used to make holes through the subchondral bone plate to become focal full-thickness cartilage defects. This procedure is intended to allow the migration of stem cells in the bone marrow to reach the cartilage defect site. In this case, the cartilage produced by this procedure tends to become less durable fibrous cartilage in comparison to the innate hyaline cartilage. The scaffolds that provide mechanical support for cells and the extracellular matrix can be used for culturing stem cells. This scaffold also needs surgery through which the cultured scaffold could be implanted in the joint.
For the convenience of the clinical use of stem cells, intra-articular injection of cultured cell therapy would be a minimally invasive and potentially efficient method for knee osteoarthritis. Intra-articular-injected autologous MSCs increased the knee cartilage volume and improved the pain scores. MSCs, as an intra-articular injection adjuvant to the arthroscopic debridement procedure, resulted in better outcomes than the debridement alone. Both increased interleukin 6 (IL-6) and tumor necrosis factor-alpha (TNF-α) in the synovial membrane and increased TNF-α and IL-1β in the vastus lateralis were closely related with the pain and muscular atrophy of osteoarthritis patients. A precursor of inflammatory cytokines in the serum or synovial fluid was associated with osteochondritis. Due to MSCs having immunomodulatory functions and the characteristic of homing to injured sites, it is effective in treating trauma or inflammatory pain.
Intra-articular cell therapy for osteoarthritis with autologous culture-expanded stem cells showed only four serious adverse events in 844 procedure reviews including one case of infection on the bone marrow aspiration site and one pulmonary embolism; two tumors, not at the site of injection, were reported as unrelated. The main adverse events related to the procedure were increased pain, swelling, and dehydration after bone marrow aspiration. Safety reports on 227 cases of intra-articular MSC injection showed 7 cases of probable procedure-related complications and 3 cases of possible stem cell-related complications, all of which were either self-limited or were remedied with simple therapeutic measures. There was no cancer-related adverse event reported during the two years of follow-up.
Many of the systemic reviews have reported that the treatment of knee osteoarthritis with intra-articular injections of stem cells showed favorable results in which the therapy can reduce knee pain and improve physical function and cartilage quality. However, there have been reports which did not have an optimistic or promising point of view. Some reports emphasized that evidence of efficacy remains limited because of poor study design, a high risk of bias, large heterogeneity, and a wide confidence interval in the estimate of the effects. Also, rehabilitation programs followed by stem cell injections played an important role in reducing pain. To date, there have been no reliable and convincing clinical human studies with a high level of evidence conducted on the application of intra-articular stem cell injection to knee arthritis. Intra-articular injection therapy using stem cells suffers from a lack of evidence of efficacy in both functional improvements and cartilage repair.
Precision Pain Care and Rehabilitation has two convenient locations in Richmond Hill – Queens and New Hyde Park – Long Island. Call the Richmond Hill office at (718) 215-1888, or (516) 419-4480 for the Long Island office, to arrange an appointment with our Interventional Pain Management Specialist, Dr. Jeffrey Chacko.