What Is Spinal Stenosis?
| Stem Cell, PRP, Acupuncture in Queens & Long Island, New York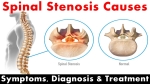 It's when the spaces between the bones that make up your spinal cord (called your vertebrae) get narrow. This can put pressure on those bones and on the nerves that run from your spine to your arms and legs. It happens most often in your lower back or neck.
Love this Post? Spread the World