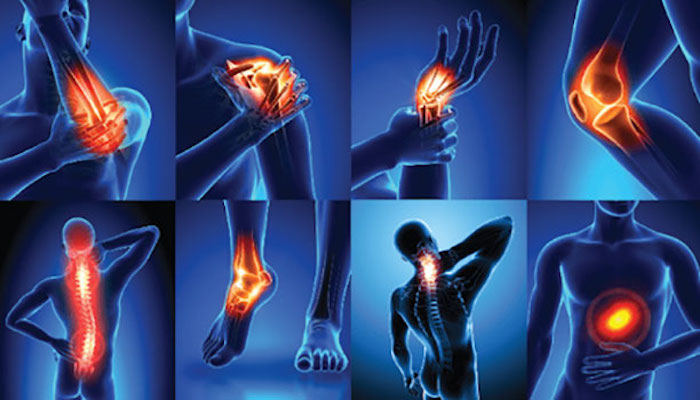 Pain that starts in one place doesn't necessarily stay there. Over time, pain can spread, shift, expand, or radiate, from one part of the body to another, making treatment even more challenging.
One common way that pain spreads to other parts of the body is through over-compensation, where we start to change our movement patterns to compensate for a part of the body that is injured or hurting. One typical example is a backache caused by chronic pain in a knee or foot. When a part of the lower leg, such as a knee or foot, is chronically irritated, it can disrupt our normal body mechanics, which can lead to a limp when walking. If this altered gait pattern continues for an extended period of time, then this puts added stress on other parts of the body that may have to work extra hard to make up for weakness in the leg. Before you know it, the muscles in the lower back start to tighten up and get sore and stiff, and this can easily spread to the right hip and even up the spine to the neck.
Additional pain can also come from avoidance, where we avoid using a body part that is hurting. I often see this occur when patients develop lingering pain in a hand or shoulder. As they try to keep doing their normal chores at home or activities at work, they resort to relying primarily on their opposite hand and arm. This over-dependence on one side of the body can lead to significant over-use and new pain. For example, a right-handed person who develops carpal tunnel syndrome with pain and numbness in the right hand can eventually experience similar symptoms in the left hand just by using it more.
There is also something known as referred pain, and we can see this occur from painful muscle "trigger points." Trigger points are tight and tender when you press on them, but they can also cause referred pain that appears in a different location. Because many of us spend so much time on computers or smart-phones, trigger points often develop around the trapezius muscle, which is a large muscle behind the neck, upper back, and shoulder blades. Headaches, jaw pain, eye pain, and even pain in the ring finger have in some cases been attributed to triggering points in the trapezius.
Nerve irritation can also cause referred pain. Sciatica is a classic example, where a bulging or herniated disc in the lower back presses on a nerve, causing pain to shoot down the back of the leg. This type of referred pain can feel like an electrical shooting sensation that radiates down the leg.
The way pain gets processed in the brain can also lead to a spread of symptoms in the body. Intense nerve pain that arises from an injured arm or leg can start to crop up in a different arm or leg that was not injured. It is still not clear what causes this to happen, but the new pain that arises in the uninjured limb can mimic the original nerve pain.
As you can see, there are a whole host of ways that pain can spread or move around the body. In each circumstance, the better we understand the causes, the more likely we are to treat it effectively. Reviewing how the pain feels with your health team can provide helpful clues. For example, muscular pain typically feels achy, throbbing, twitching, or tight, and if you start to experience that in a part of your body that was not previously injured or affected, then there is a good chance it is due to some sort of muscular over-compensation. But if what you are feeling is more electrical, shooting, burning, or tingling, then that likely indicates nerve irritation, such as a pinched nerve from a herniated disc in the back. In many cases, restoring function and activity where the pain first started can help reduce the stress and strain on other parts of the body that get overworked. Listen to your body for clues to help guide the process.
Precision Pain Care and Rehabilitation has two convenient locations in Richmond Hill – Queens and New Hyde Park – Long Island. Call the Richmond Hill office at (718) 215-1888, or (516) 419-4480 for the Long Island office, to arrange an appointment with our Interventional Pain Management Specialist, Dr. Jeffrey Chacko.