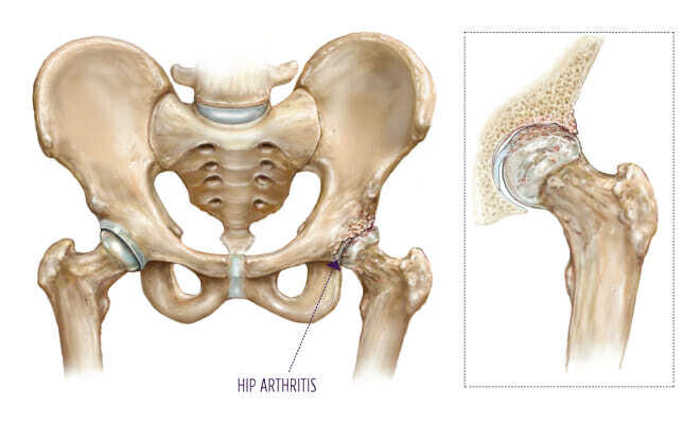 Avoid Hip Surgery with Non-Surgical Treatment Options
Hip Osteoarthritis, also known as wear-and-tear arthritis, is a condition affecting the natural cushioning, or cartilage, between joints in the hip. There is no cure for arthritis as of yet, but there are many pain relief treatments that can improve your quality of life. Our pain specialists use non-surgical treatments to help patients manage hip arthritis. They can help you discover the best way to find relief and get back to the activities you enjoy most.
Symptoms of Hip Arthritis
Arthritis usually comes on slowly with pain that gradually increases over time. Osteoarthritis is the most common form of arthritis. This type of arthritis is caused by the breakdown of cartilage. Conversely, rheumatoid arthritis is an autoimmune disorder where the body's immune system turns on itself and begins attacking healthy tissue. Rheumatoid arthritis is generally more difficult to treat long-term.
Symptoms of arthritis include:
Stiffness

Pain

Decreased range of motion

Swelling

Clicking noises when moving the hip
Be Sure to Explore All Your Options Before Considering Surgery
Patients with severe hip arthritis will often be recommended hip replacement surgery. Be advised that this is an intense procedure that should only be used as a last resort. Many people can find relief through conservative treatment options and you should explore these with your doctor first.
The treatments listed below can spare you from the need for hip replacement surgery for several years. Hip replacements are not permanent, so if you can achieve pain relief without one, it is highly recommended that you stick with conservative treatments.
Possible Treatments
Hip Joint Injections

Joint Injections

K-Laser Therapy

Prolotherapy

Platelet Rich Plasma (PRP Therapy)

Stem Cell Therapy
Precision Pain Care and Rehabilitation has two convenient locations in Richmond Hill – Queens and New Hyde Park – Long Island. Call the Richmond Hill office at (718) 215-1888, or (516) 419-4480 for the Long Island office, to arrange an appointment with our Interventional Pain Management Specialist, Dr. Jeffrey Chacko.