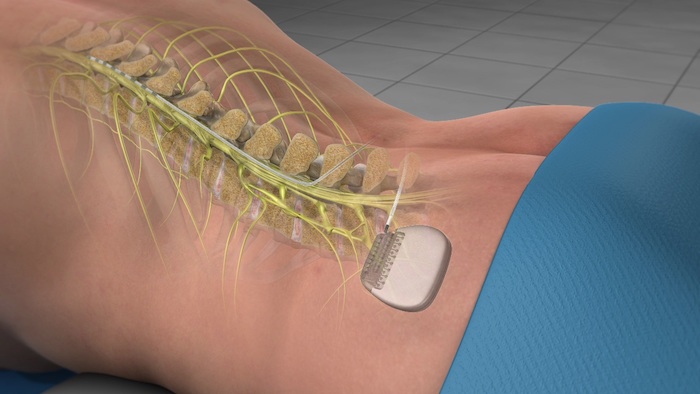 Diminishing Signals of Pain
Spinal cord stimulation works by disguising pain signals that cause chronic pain. Using electric pulses, spinal cord stimulation is able to diminish signals of pain before they are recognized by the brain. The pain management physician provides spinal cord stimulation therapy for patients experiencing chronic pain that may occur in the back, legs, or arms. The stimulation does not eliminate or cure the source of the pain, instead, it alters the way the brain recognizes the pain. It can also decrease the patient's need for opioid medications as a form of pain management and help them return to their normal daily activities without having to be restricted by pain.
Am I a Candidate for Spinal Cord Stimulation?
Spinal cord stimulation therapy can be a good option for those suffering from chronic pain that has been unsuccessfully treated with other therapies or surgery. There are several causes of chronic pain including diseases affecting the nervous system, arthritis, spinal stenosis, multiple sclerosis, injury, etc. Before receiving this treatment, patients will undergo a trial process to evaluate the effectiveness of spinal cord stimulation to combat their pain.
What to Expect from Spinal Cord Stimulation
Spinal cord stimulation begins with the trial stimulation performed as an outpatient procedure under general or local anesthesia. The pain management physician will begin by inserting a hollow needle into the space between the bone and the spinal cord. The electrical wires are then inserted and externally attached to a generator. The patient will be sent home with a trial stimulator in order to evaluate any changes in pain. If the patient confirms significant pain relief, we may suggest a permanent spinal cord stimulator device be inserted and will adjust the settings on the device to provide maximum pain relief.
Typically, patients are discharged from the outpatient center on the same day as their procedure and they will be sent home with the appropriate post-treatment instructions. Patients may need to attend a follow-up appointment so that the physician can remove their sutures and assess their healing progress. He can also make any required adjustments to the stimulator.
Begin Managing Your Pain Today!
Spinal cord stimulation can be a successful procedure in helping individuals manage their chronic pain. The pain management physician provides this procedure for patients suffering from various conditions that can cause uncomfortable, consistent pain.
Precision Pain Care and Rehabilitation has two convenient locations in Richmond Hill – Queens and New Hyde Park – Long Island. Call the Queens office at (718) 215-1888, or (516) 419-4480 for the Long Island office, to arrange an appointment with our Interventional Pain Management Specialist, Dr. Jeffrey Chacko.